Contact Enrolment Officer
Mrs Felicity Lister
Email: [email protected]
Phone: (09) 524 6019 Extn. 713
The intake numbers for 2025 will be 215 girls in Year 7 and a limited number of places for girls in other Year levels. Baradene's intake will be according to the Enrolment Scheme.
ENROLMENT PROCEDURE FOR NZ RESIDENTS
Please complete the Baradene Enrolment form and return to the College. Ensure you send all the requested attachments. Alternatively contact the College Enrolment Officer for an Enrolment pack:
Parent Information 2025 Sacred Heart Goals Booklet Baradene College Enrolment Form Enrolment Scheme Preference Certificate Preference Information for Parents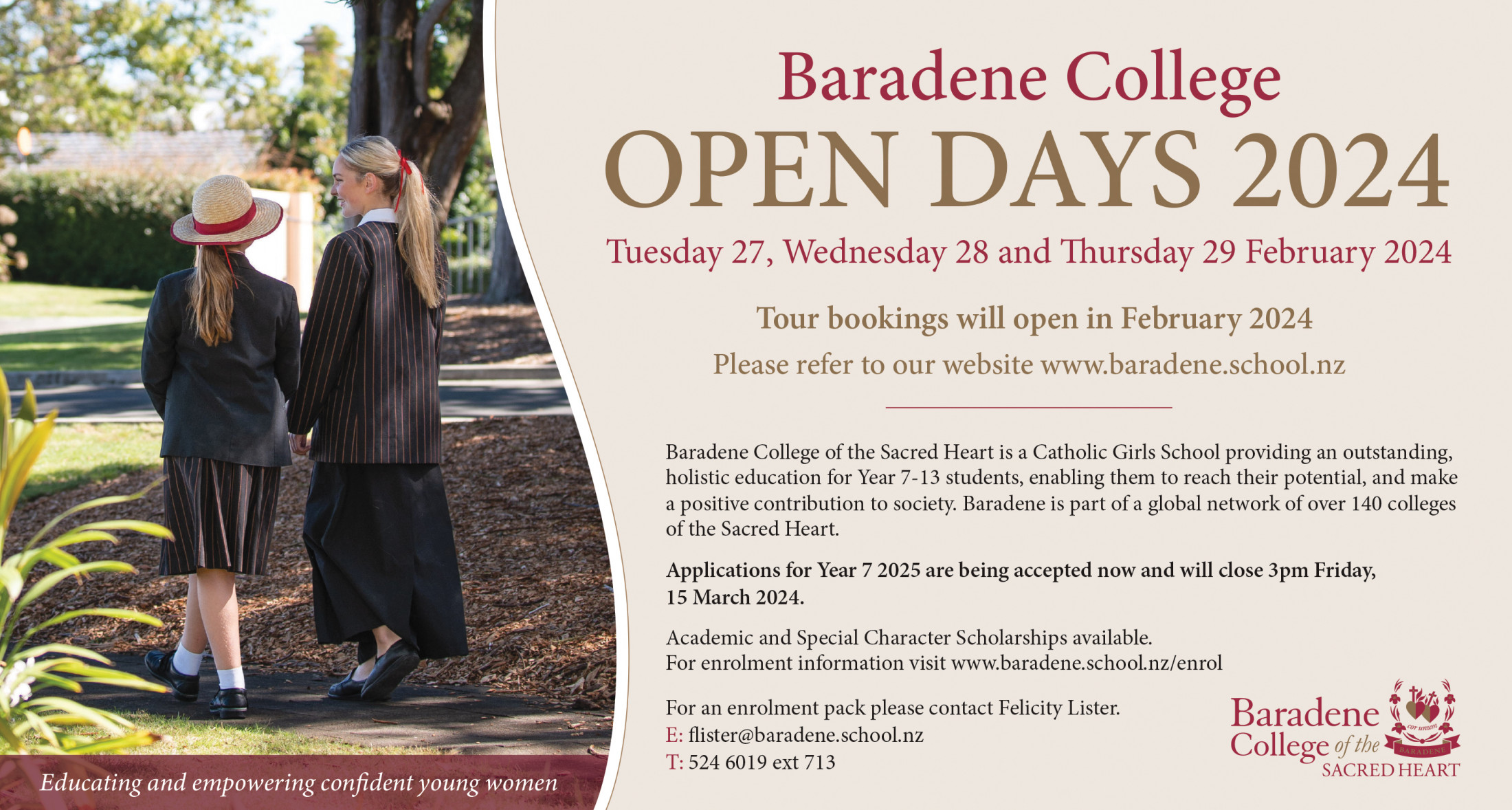 ---
ENROLMENT TIMELINES FOR YEAR 7 & LIMITED PLACES FOR YEAR 9, 2025
Tuesday 27 February 2024
Wednesday 28 February 2024
Thursday 29 March 2024

Tour Times: 9am and 10am each day



Open Day Tours


Welcome followed by guided tours




Barat Technology/Visual Arts and Science Building, Swimming Pool, Gymnasium, Music Building, Year 7/8 Classrooms




Online tour bookings will be advised on our website and will open a few days beforehand.




Friday 15 March 2024

Enrolments for Year 7 and limited places for Year 9, 2025 intake CLOSE at 3pm
Fully completed signed enrolment applications for Year 7 and Year 9 2025 can be delivered to the main reception, posted, couriered or emailed to:
Mrs Felicity Lister: [email protected]
(Please note the enrolment applications must arrive by the closing date and time)

Wednesday 10 April 2024
Families with an offer of place are required to confirm acceptance of that offer by this date. Failure to do so will see your enrolment place forfeited. Term 1, 2025 financial contributions are also due by this date. Please note this date for your own family budgeting purposes.
VIEW OUR VIRTUAL TOUR


VIEW OUR SCHOOL VIDEO