School Buses
(Term 4 2022 Update)
Bus stop changes 413, 522 and 523 (St Heliers - Baradene)
From Monday 17 October (Term 4) 2022:
---
(17 March 2022 Update)
Additional Bus 413
From 21st March 2022:
AT will be running an additional school Bus 413 from St Heliers To Baradene College in the Morning.
The service will depart at 7.29am from stop number (7344 ) at Stop B St Heliers. There is no change to the route. This service will depart 4 minutes after the first service which departs at 7:25am.
This change means there will be more space for students on the 413, which we understand has been very popular service.
---
(7 December 2021 Update)
Route Change - 006
From the start of term one 2022, buses on the 006 will take a new route between Green Bay and Blockhouse Bay. Buses will no longer serve Connaught St, Gilfillian St, or Blockhouse Bay Rd by Blockhouse Bay Primary. Instead, buses will serve Bolton St, Taylor St, and Blockhouse Bay Rd by Blockhouse Bay Community Centre.
We're making this change so we can reduce the number of buses using the bus stops on Blockhouse Bay Rd by Blockhouse Bay Primary. At present we are reviewing all bus operations on Blockhouse Bay Rd between Gilfillan St and the Donovan St / Kinross St roundabout because the bus stops on this street are not big enough to accommodate all the trips currently scheduled to pick up or drop off.
The new route will also be shown in our online journey planner at https://at.govt.nz/bus-train-ferry/journey-planner/ , this will start from the 1st Feb 2022.
---
AT TRANSPORT
Baradene College is well serviced by buses and train links to most Auckland Suburbs. For information on buses to Baradene College please visit:
Baradene College School Bus Timetables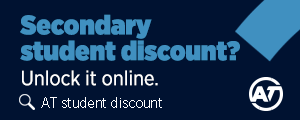 COACHWAYS BUSES
Coachways information on how to purchase bus tickets
Route 12 Dannemora/Cockle Bay to Baradene College Route 053 Clevedon/Papakura to Baradene College
KIWI COACHES
Run 15 Pt Chevalier/Baradene College
---
WEBSITES WHERE PEOPLE CAN FIND MORE INFORMATION
Main information page – https://at.govt.nz/newnetworkeast
Plan your new journey – https://at.govt.nz/journeyplanner
Find out about AT HOP – https://at.govt.nz/bus-train-ferry/at-hop-card/
Find out about Fares – https://at.govt.nz/fares
Bus and train timetables – https://at.govt.nz/timetables/